First a big THANK YOU! to all who have donated to Shad's rebuild fund. A day short of a week after the fire and he's moving forward. An amazing find was his large nail gun, that he was hoping was at my house, turned out to be inside his shed on a shelf in the left front corner. This was one tool that he was really hoping wasn't in the fire because he needed it to make his rebuild easier. When he found it, it was covered with soot, black. But as he started to removed the black he realized that it still had it's paint and the plastic trigger was in tact. Fortunately, also, was the fact that his pancake air compressor was in my studio safe and sound. To begin the rebuild
All Size Sheds
donated a panel to replace the one that cracked on the back wall. This is now replaced.
All Size Sheds
also gave Shad a good deal on a new window and hinges for the doors. The new window is installed, the doors have yet to be worked on.
A truckload of trash bags were hauled to a burn pile at a friend's place out of town and two truckloads of metal have gone to the salvage yard. Making headway!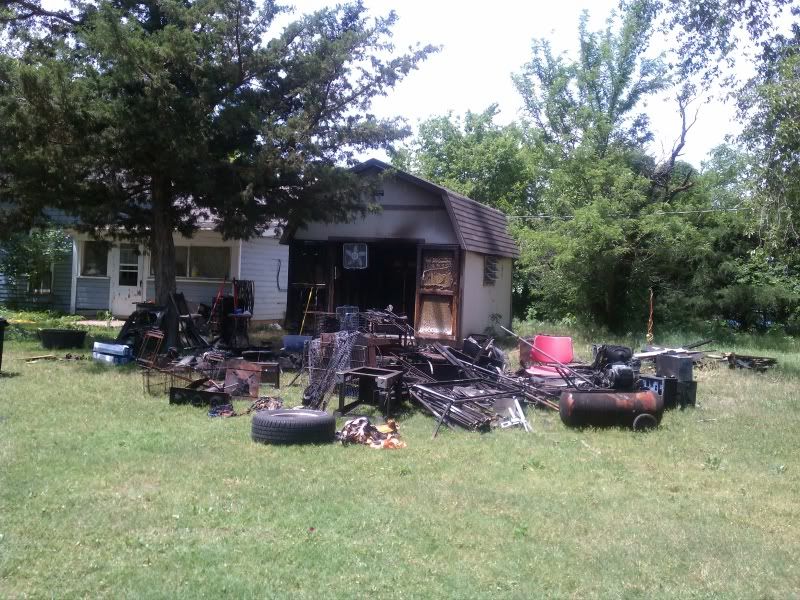 After a couple days off work to tackle this he's back to work tomorrow. I'll post more as he progresses.